Supporting Local Community Groups
At the June 2021 meeting, members agreed to make $10,000 in donations to local groups including Mary's House.
At the June 2019 meeting, members agreed to make two further donations to local community groups: Mary's House and PCYC North Sydney. 
Accord Supports Domestic Violence Victims
Taking their own stand against domestic violence, members of Harbourside Liquor Accord unanimously voted to donate $1,000 to North Shore-based Mary's House to provide gifts and new school year requirements for the children staying at the shelter over the festive season. 
"Our members strongly support the work of Mary's House and are keen to bring some fun to the families affected by domestic violence in our local area," Peter Calligeros, President, Harbourside Liquor Accord said.
Peter said the accord works closely with North Shore Local Area Command to implement a range of strategies to combat alcohol-related issues and this is a small, yet practical way in which the members can directly assist victims.
Mary's House is a shelter in the North Shore of Sydney, operated by the North Shore Women's Benevolent Association, supporting women and their children who are escaping domestic violence.
In accepting the surprise donation, Mary's House Executive Officer, Maggy Farago, said "Mary's House has been a community initiative from the beginning and we are very appreciative of the community continuing to support us. We thank the Harbourside Liquor Accord for being an active part of this community. Domestic Violence is a major issue in our society, affecting one in four women, and we are proud to be offering one solution to this."
On Thursday 22 November, members of the Harbourside Liquor Accord Committee joined representatives from North Sydney Council in a visit the Mary's House offices to discuss the donation and the issue of domestic violence on the north shore.
NSW Police Sexual Assault Campaign
Harbourside Liquor Accord supports the NSW Police campaign to increase awareness of reporting of and prevention of sexual assault.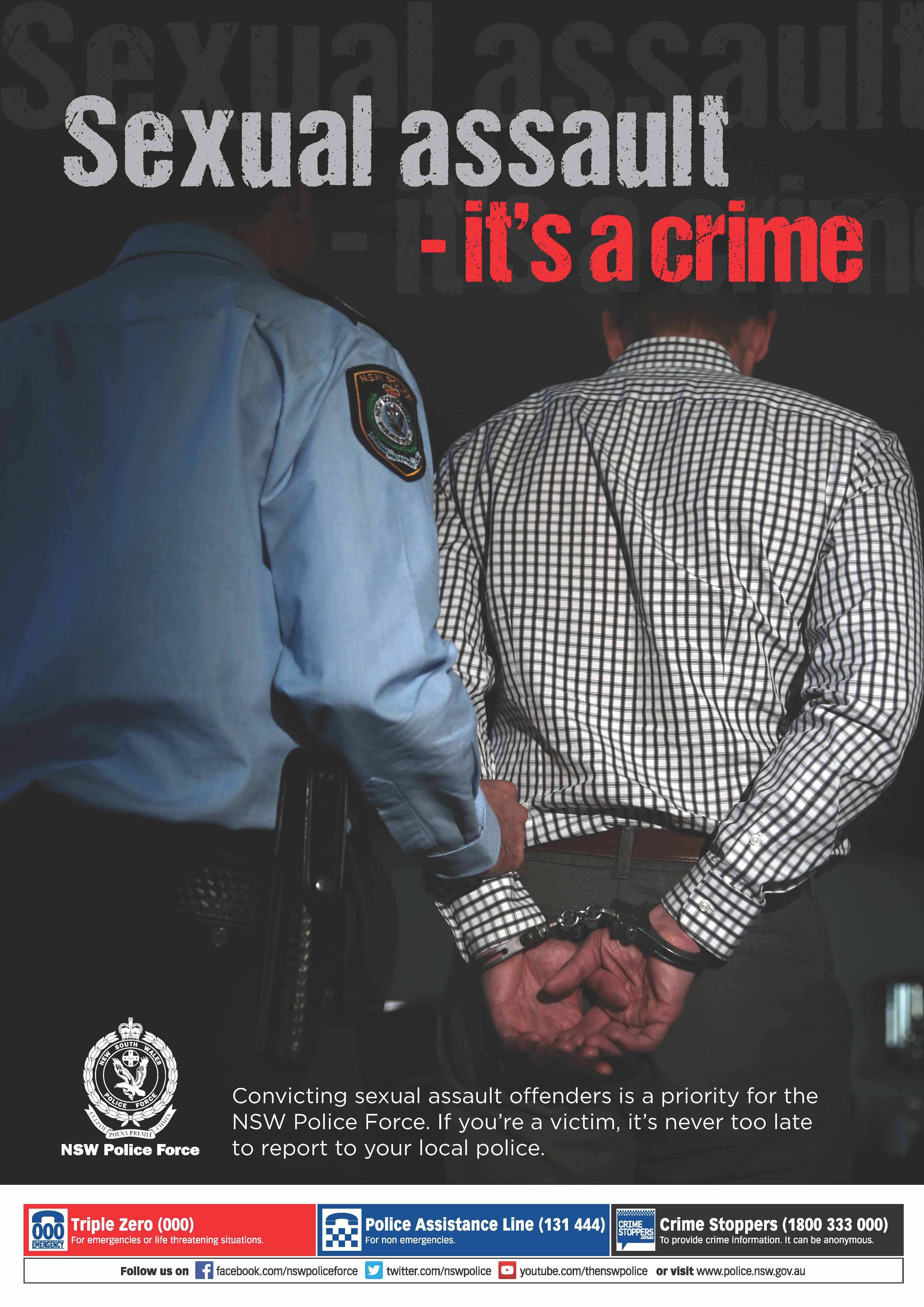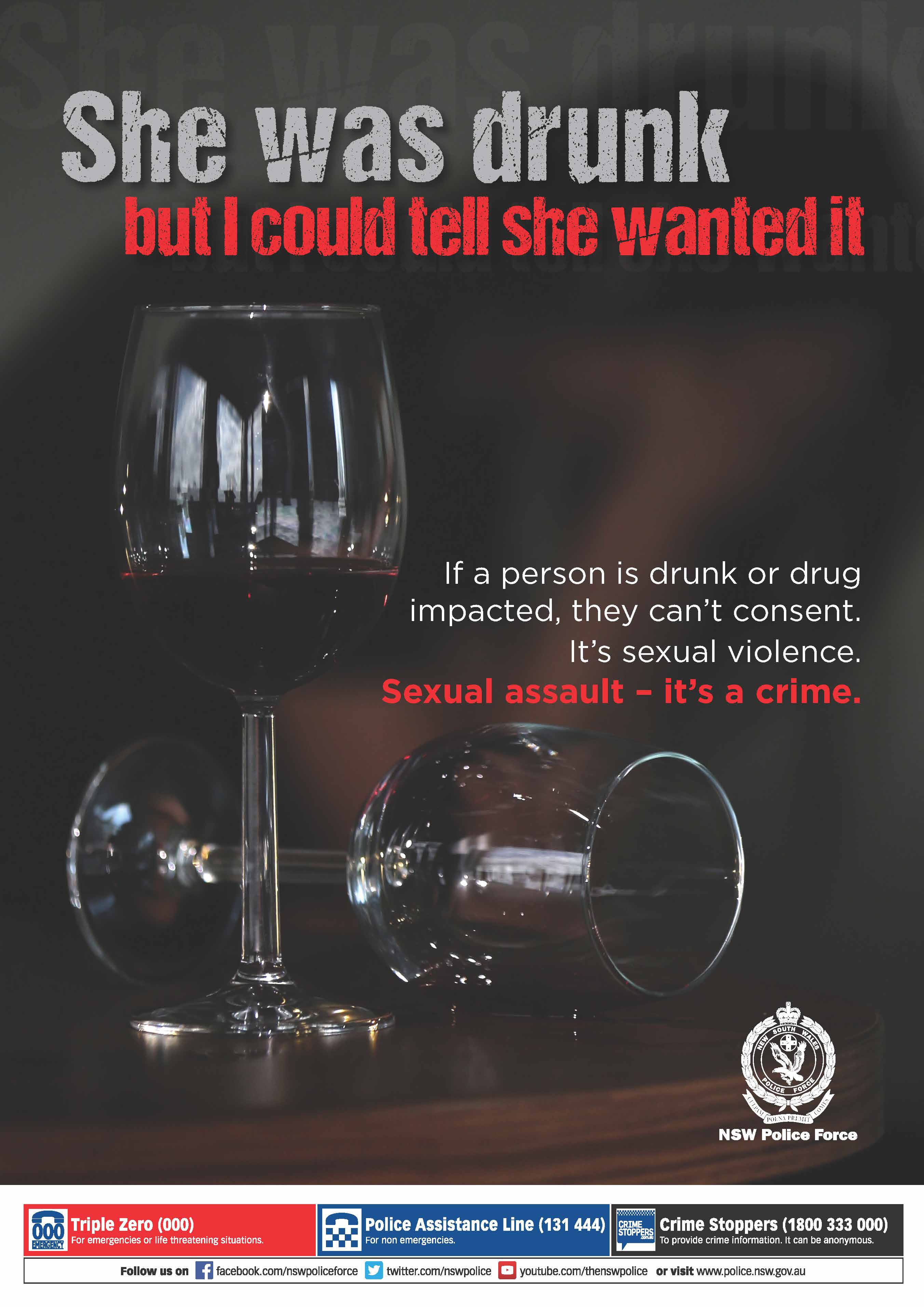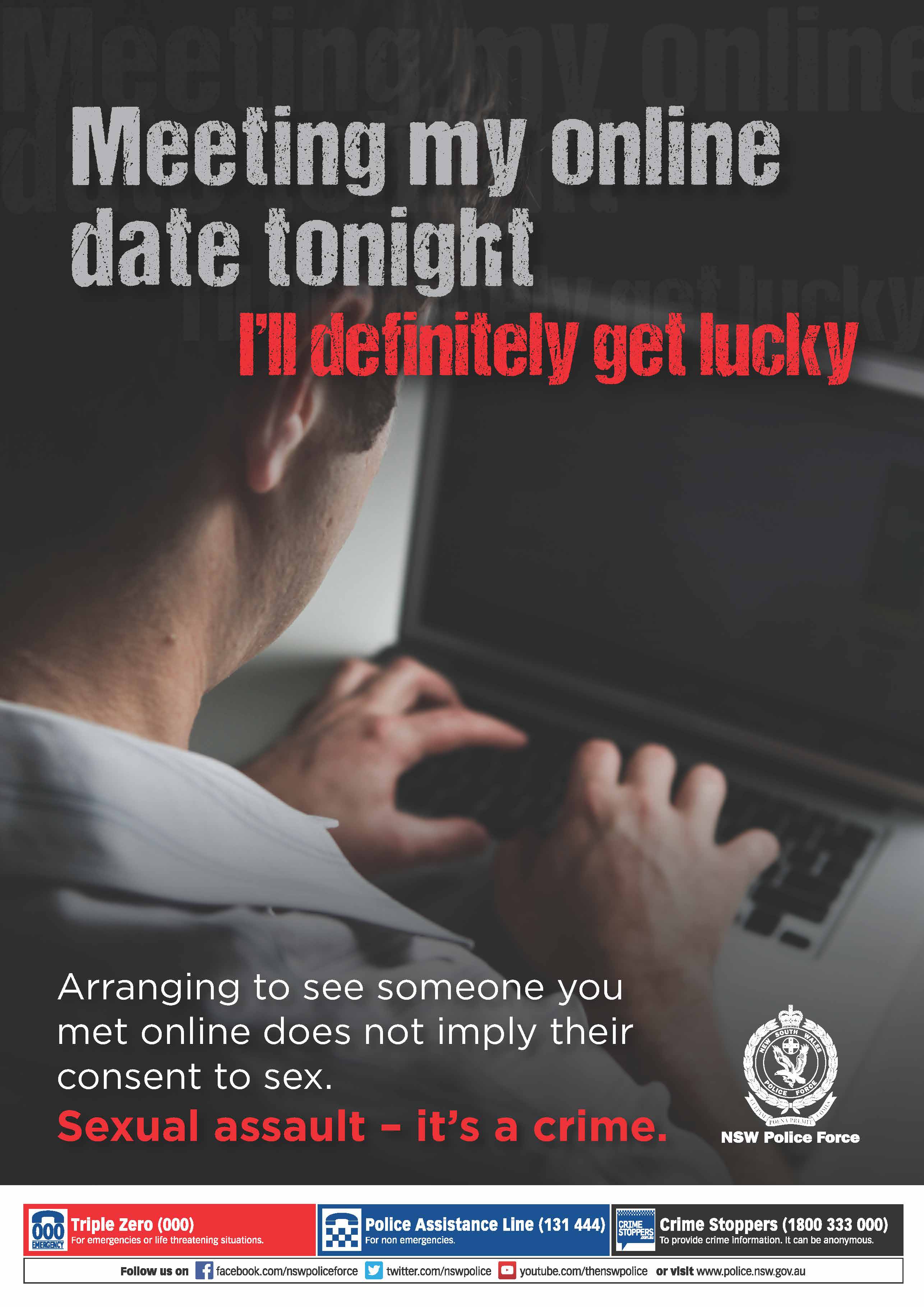 Supporting Local Youth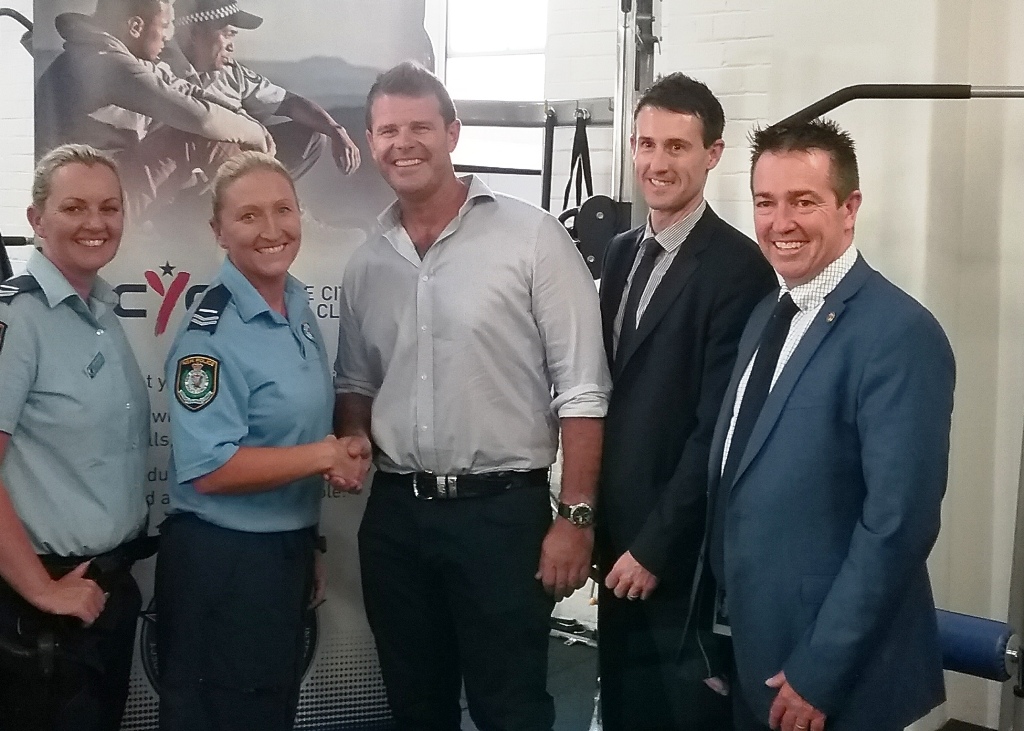 In December 2017 the Harbourside Liquor Accord made a significant donation to the PCYC North Sydney to support their work with troubled youth in the area. The Minister for Liquor and Gaming, The Hon. Paul Toole was on hand to meet with Accord President Peter Calligeros and Treasurer Luke Simmons when they met with Snr Cons Jodie Young, Youth Case Manager to make the timely pre-Christmas donation.
Plan B Campaign
Harbourside Liquor Accord supports the RMS Plan B campaign and urges all patrons, if you're drinking don't drive.
Members can receive promotional materials for the campaign by contacting the RMS officer, Rebecca Thomas at Mosman Council.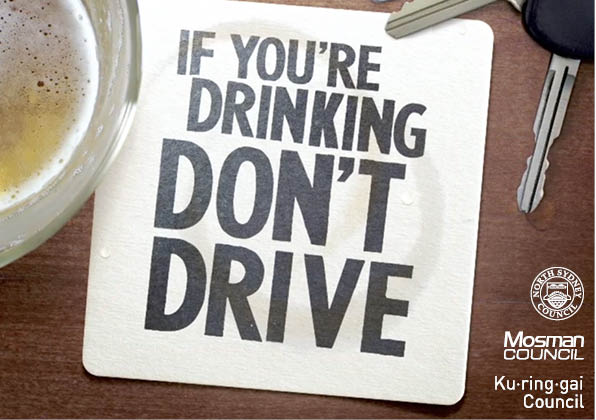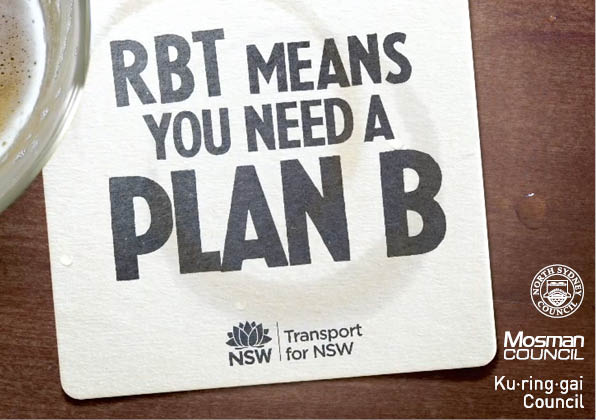 Harbourside Liquor Accord Participating in Stop the Supply Campaign

The accord is an active participant in the Stop the Supply Campaign, which is being led byNorthern Sydney Local Health District Health Promotion is leading the and supported by North Sydney, Willoughby, Lane Cove and Mosman Councils, alongside the local police units, North Shore and Harbourside Local Area Commands. These bodies are joined by other local organisations involved in the campaign, such as Mission Australia, headspace Chatswood, Taldumande Youth Services and Harbourside Liquor Accord. 

The campaign is using train advertising and other materials to encourage the community to stop the supply of alcohol to minors.    
You're a parent, not a mate, is one of the daring new messages to be used in a health promotion campaign to encourage the North Shore community to take a stand against supplying alcohol to minors.
The Stop the Supply campaign will run through the North Shore region from October 2015 to January 2016 and aims to make parents, coaches and young people stop and think about the consequences of supplying or buying alcohol for someone under 18 years.
The campaign asks the community to think about their responsibility to a young person in their charge. You're the coach, not the team mate and Here's your drink, it cost me $1,100 are the other two messages to get people thinking.
Accord members have been provided with promotional materials to support the campaign 
Go to www.stopthesupply.org.au for more information.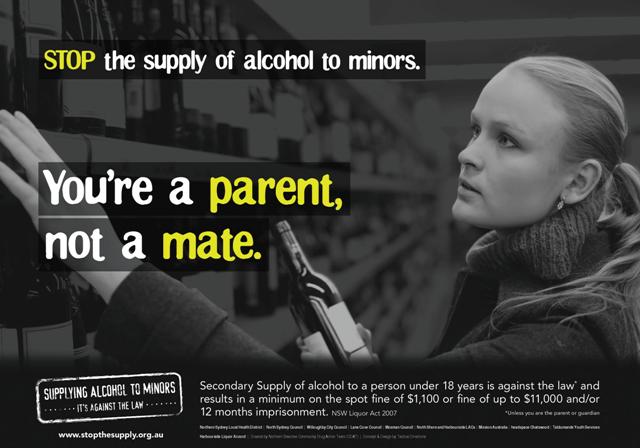 'Stop Before It Gets Ugly' Campaign
The NSW Government has launched a comprehensive campaign to tackle alcohol fuelled violence. The 'Stop Before It Gets Ugly' campaign " is the first NSW Government advertising campaign to specifically address alcohol fuelled violence. 
Targeting young men aged 18-35 the group most likely to be the offenders of alcohol-related violence, it sends a strong message that responsible alcohol consumption and consequential behaviour is a matter of personal responsibility.
The campaign communicates a clear call to action:
·         Know your limits. Pace yourself. Recognise the 'tipping point' when your behaviour starts to change, and stop before it gets ugly.
·         Watch out for your mates. If they've had too much to drink, get them to stop and help them get home safely. You can help stop it getting ugly.

The Harbourside Liquor Accord Youth Education Program
In 2012 the Accord conducted a pilot program of a Youth Education Program which is now being rolled to schools in the area, on request
We acknowledge the support and invaluable assistance and cooperation of Harbourside Local Area Command in this project. 
The pilot program of the Youth Education Program was conducted on 8 June 2012 at St Aloyisus College and the Accord thanks the Headmaster, Staff and students for their cooperation and involvement in this most valuable project.
Due to the success and acceptance of the pilot program, the Accord is now available to other schools in both our accord area and to other liquor accords throughout NSW.
The progam was delivered to Marist College North Sydney on 12 September 2012 and the Accord thanks the Headmaster Staff and students for their interest and cooperation.
In March 2013 the program was delivered to Year 12 Wenona students and we thank the Wenona staff for inviting the Accord to present this important program to their students
THIS PROGRAM IS DELIVERED FREE OF CHARGE TO SCHOOLS
If your school would like to be involved, please contact Accord Secretary to express your interest:
Email Lyndall Lee Arnold info@harboursideliquoraccord.com.au or Phone 0414 681 177
THE PROGRAM IS AVAILABLE TO OTHER LIQUOR ACCORDS.
Please contact Lyndall for rates and details 
Office of Liquor Gaming & Racing Resources, samples of potential projects which may be adopted.